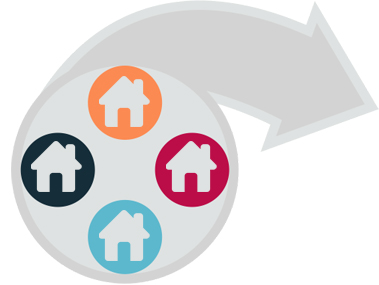 Real estate crowdfunding in numbers
Do you consider opportunities to invest into realty? Here's some food for thought regarding crowdinvesting as a prosperous option.
A couple of years ago very few people in Europe knew about real estate crowdfunding (RECF) Europe was over-performed by its Western neighbour – the US – in this area of alternative finance since the Jumpstart Our Business Startup Act (JOBS Act) started in 2012.
The situation started to change after 2012, when different models of business crowdsourcing (equity based, peer to peer lending etc.) crossed the Atlantic. In the post-crisis period, since the slump of the realty market in 2008, European countries followed the USA in trying to support small business initiatives. At the same time the question of retirement funds stands sharp in some countries, actualised by demographic challenges and the pension reform debates.
While in 2015, the USA grabbed 56% of the market and Europe got 42% of all crowdsourced projects. The Massolution RECF Industry 2015 Report predicted that Europe would reach the $1 billion record. It was added, that the spreading popularity of realty platforms among investors makes it a profitable way of raising capital..
Property crowdfunding in different European countries
In the UK, there's an overwhelming necessity to double the number of new homes that are provided every year to meet demand. From this point of view, P2P lending in the post-Brexit period looks like a remedy from this shocking situation. So, there's no wonder, that London was named "the World's Crowdfunding capital". The UK became the RECF leader in Europe and this model is considered one of the best options for funds diversification.
RECF is not new to Germany as well. It's officially stated that, among all successful business projects launched in this country, 10% are represented in property development. At the same time, a third of the capital was gained via crowdsourcing (more than €30 million). It's notoriou, that last year in Germany, amidst low growth of startup crowdsourcing, funding of property by crowd almost doubled in size.
A wide range of opportunities within RECF is found in Switzerland, where the national Financial Market Supervisory Authority has taken a more liberal approach to the newly-established property platforms. As a result, quite different business models have been established – from funding of luxury estates, offered by the first platform in the country (www.swiss-crowd) to opportunities to invest as little as 100 CHF.
In France, RECF was established two years ago and was entirely dedicated to the short-term debt-funding of property development, as opposed to funding buy-to-let. But currently a new crowdfunding platform emerges almost every week. According to the publisher of French magazine "HelloCrowdfunding", Laurent Altmayer, the sector financed €50 million worth of real estate development in 2016, an increase of around two thirds from 2015.
In Italy, crowdsourcing for property development projects is not officially allowed yet, but there are various platforms that are already using the concept in different ways. Some of them, like Italy-crowd, are used to expose interest from investors in the proposed project or to refurbish abandoned historic properties located in rural areas like Slowfunding.

The concept of property bundles - a new emerging trend.
RECF has tooreached Eastern and Central Europe. In this case it's worth mentioning, that the property platform, RealtyBundles, announcedthat the first group of properties, named as property bundle, has been already collected in Budapest and now is available to investors.
According to the innovative concept of bundles, people have the opportunity to get their share in multiple properties with a single mouse click. Property bundles are groups of real properties that, due to the concept, will be located in different countries of Europe and grouped together as a simple investment package. So, the concept of property bundles is a dynamic investment vehicle, which provides high liquidity of cash, income from rent, annual yields, estimated above 10%, and reduces the risks of being knocked by marketing instability.
Now you know
At this stage in Europe, crowdsourcing is well-established. The opportunity to use limited funds, diversify assets and increase retirement funds became the key factors for the middle class investing in the realty market. In addition to this, changes in European legislation, the housing crisis and demographic challenges allowed RECF to grow. So, by 2016 global property crowdfunding was predicted to surpass venture capital by total investment volume.