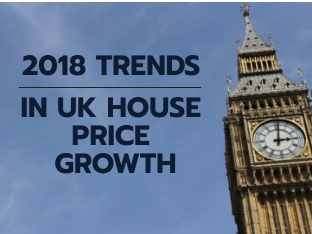 The property market in Britain has long been considered one of the most established and secure investment options in Europe due to the country's well-developed economic, industrial, financial and political systems. It is no wonder, then, that the UK boasts some of the highest-priced properties in the world (according to MoneyINC, London is the second-most expensive city to buy a house in worldwide).1 Currently, however, many investors are concerned about Brexit and how it has already affected the property market. To address these concerns, let's look at the official statistics for the House Price Index (HPI) and identify the latest trends.

According to a government report that illustrates real estate trends for December 2017-2018, the UK HPI increased by approximately 2.5% over this period. The biggest house price growth was seen in Northern Ireland where house prices went up by 5.5%. In Scotland, house prices increased by 2.4%.2
Nonetheless, the 2018 real estate market showed some downturns because the supply of real estate diminished and some transactions were deferred until the UK completely withdraws from the EU. Also, the number of sales in England dropped from 77,047 to 66,599 in the 12 months leading up to December 2018, which illustrates that there is some uncertainty about entering into new real estate deals.
Still, the sales situation is better outside London. For instance, the number of sales in Scotland saw little change. There, the number of sales dropped only slightly from 9,047 to 9,003. It may be concluded that Scotland is more stable in terms of its ability to generate new building deals than England. Moreover, if we look at the volume of transactions, we see positive growth. This figure has gone up by almost 5% in England and by 2% in Scotland.2


Also, according to PwC, all regions except London have experienced positive house price growth because the capital of the UK is understandably most influenced by economic changes.3 Even then, house prices fell by only 0.6% in London from December 2017 to December 2018.2

So, although supply and demand for new buildings are lower than usual, the overall statistics remain positive. Yes, Brexit may have some negative consequences for the real estate market, but the market can stabilise once Brexit is resolved. Now could be the time to invest in the UK and appreciate its potential growth in the future as it fully recovers the effects of Brexit. Your capital is at risk if you invest.
Sources
https://www.gov.uk/government/publications/uk-house-price-index-summary-december-2018/uk-house-price-index-summary-december-2018