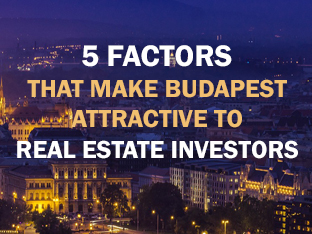 Budapest has become a popular city for real estate investment in recent years. Investors have started paying more and more attention to this European destination. As a result, competition for Budapest's assets has increased, but there are still many opportunities for real estate investors as the Hungarian real estate market continues to establish itself as a destination for institutional capital.
PwC recently published its 2019 survey analyzing emerging real estate trends in Europe and describing the main factors of importance to real estate investors when they select a city or development for investment1. In this article, we will consider 5 features that more than 89% of the surveyed respondents considered important and show that Budapest displays all of them.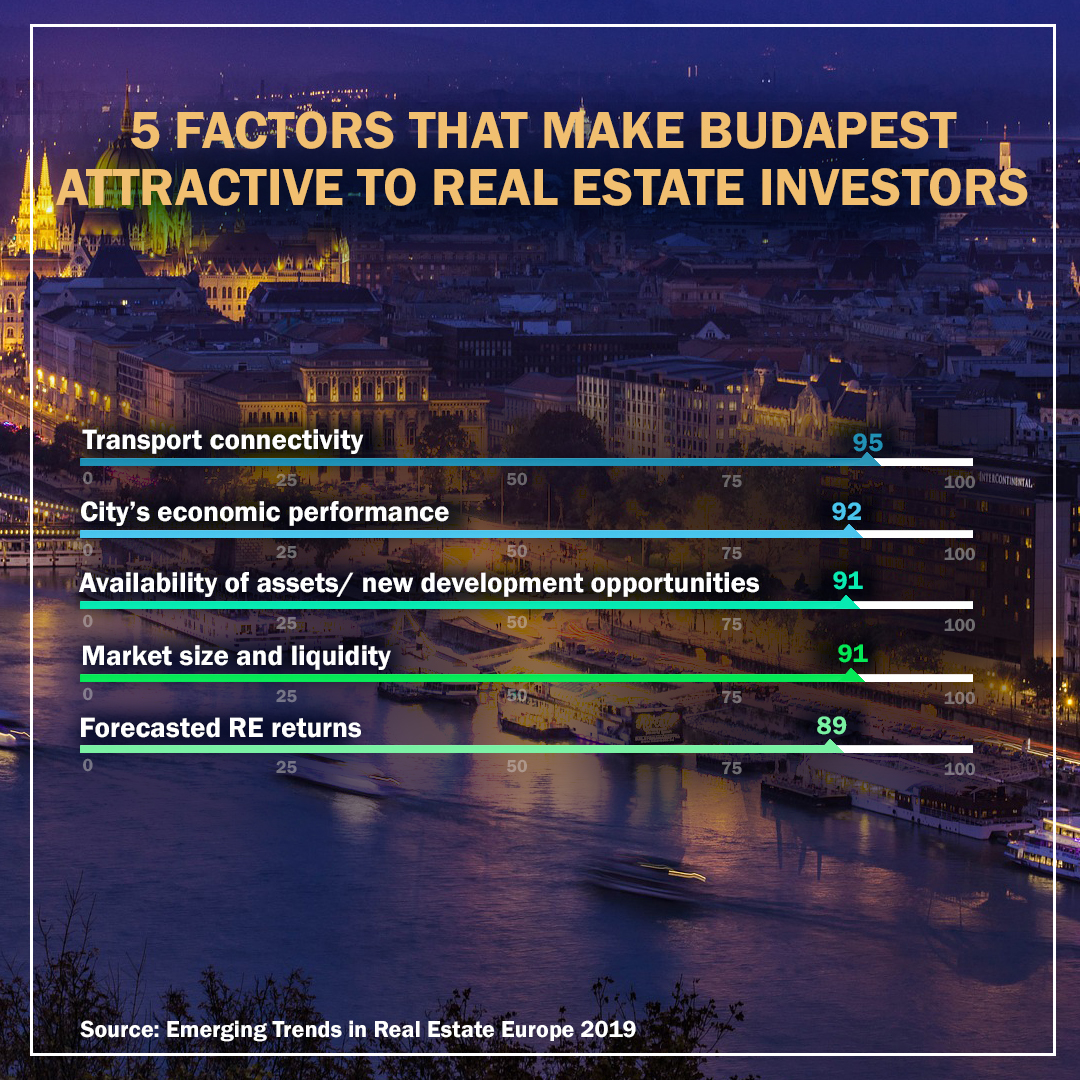 Transport connectivity - Importance value 95%
Budapest has good transport connectivity because of its advantageous location. It can be reached easily by air in 2–3 hours from most major cities in Europe. Budapest's railway network is directly connected to the main European railway system, offering an easy and comfortable means of traveling to Budapest from abroad.
The transport system is getting better and better, as shown by a report recently issued by Budapest Ferenc Liszt International Airport2. The airport had a record year in 2018, servicing approximately 14.9 million passengers. This makes it the fastest-growing airport in the Central Eastern European region. In 2019, the number of new destinations is expected to grow even further3.
City's economic performance - Importance value 92%
It is always good to have a general picture of the economic climate of the country you're investing in. The International Monetary Fund (IMF) has increased its forecast for Hungarian economic growth in 2018 and 2019 to 3.7%. The five-year forecast from the IMF projects 2.2% GDP growth for Hungary4.
Availability of assets / new development opportunities - Importance value 91%
According to official statistics from Trading Economics, construction activity in Hungary increased by 18.5% year-on-year in October 2018. This followed a 25.8% jump in the previous month. Construction output is also forecast to increase by 25.5% in the first quarter of 20195.
Market Size and Liquidity - Importance value 91%
The real estate market shows a healthy tendency towards growth. This can be seen in several indicators:
The number of constructions in the country went up by more than 2 million from 1990 to 20176 according to the Hungarian Official Statistical Office.
Transaction volumes in Budapest increased by approximately 300 million euros from 2009 to 2018 according to the report from PwC1.
The all-property return went from -12 in 2009 to +12 in 20176.
Forecasted RE returns - Importance value 89%
Hungary's housing price index (HPI) has shown strong, positive growth since 2013, particularly in Budapest. Budapest is still one of the cheapest capital cities in Europe. According to Trading Economics7, the increase in HPI is expected to continue over coming years, increasing by ~15% by 2020.

Budapest ranks only 22nd amongst the major real estate markets in European cities according to Emerging Trends Europe1. But based on the above-mentioned data, it is growing steadily. In addition, in this article, we have shown that Budapest meets the most important requirements respondents have for cities to invest in1, so it is clear that this market and this city deserve prompt attention.
Sources