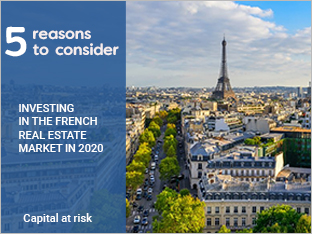 French real estate has long been attractive to international investors worldwide. In previous years, investors were tempted by the country's centuries-long history, developed infrastructure, and popularity as a tourist destination. However, what can we expect from the French property market in 2020? What may happen to market conditions in France and where can buyers be looking to invest in the upcoming year? Let's find out!

1. Positive property price trends
French house prices are estimated to rise between 2.5% and 2.8% in 2020. The average growth for property prices in Q2 of 2019 was 3.2%, making it the 13th successive quarter of positive growth.1 FNAIM, a company representing real estate agents, forecasts that house prices in France will go up by about 3.4% by the end of 2019 and into 2020.2

2. Stable market demand
The price increase was supported by stable demand paired with a limited supply of assets available in the French property market.2 Moreover, from April 2019, mortgage interest rates have been at a historically low level and the 12 months up to March 2019 saw the highest volume of property sales in the country for the past decade.
New research conducted by specialists at Crédit Agricole predicts that house price growth and sales will continue to grow in 2020.4

3. Attractive investment prospects
As stated by PWC research, Paris tops the list of most attractive markets in Europe for international investors. Paris, a huge and liquid property giant, continues to attract insurance, pension fund and retail investors willing to invest at record-low cap rates. Paris is also a pioneer of student housing and build-to-rent.5

4. Rising GDP
French GDP increased by 1.6% in 2018, which was slightly less than the 2.2% growth seen in the previous year. This was mostly due to social issues and a slowdown in the eurozone. In Q1 2019, GDP grew by 1.2%, the same pace of growth as in the previous quarter.6

5. Falling unemployment rate
As reported by INSEE (the National Institute for Statistical and Economic Studies), in Q1 2019, the unemployment rate in France was 8.7%, decreasing from 9.2% in Q1 2018 and 9.6% in 2017. Despite this, France's unemployment rate remains higher than the eurozone average of 6.4%.7


The French real estate market can be a promising option for those interested in a long-term investment opportunity. In recent years, this market has shown that it is stable and buoyant enough to withstand temporary periods of decline. It is also good news that France is considered to have one of the most well-regulated property markets across the globe. So, the outlook for 2020 is positive.8
For those interested in a real estate opportunity in France, we offer our Halcyon Property Bundle for consideration. This property portfolio consists of 10 holiday apartments which vary in size and type and include fully renovated assets and properties that are still under construction and will be completed in the coming years. The Halcyon Property Bundle is operated by Wyndham Halcyon Retreat Golf and Spa Resort9, a holiday resort development that became part of the Wyndham Hotel Group, one of the largest hotel groups in the world, in 2015.10 Find out more about this opportunity:
Sources