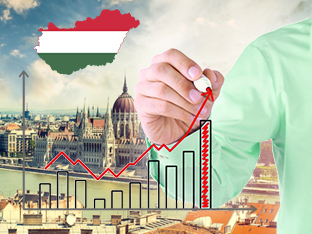 Hungary, and Budapest in particular, is known for its rapid development in areas such as commerce, finance, technology and education. Thousands of students flock to the country every year to receive high-quality university education. Budapest is also an attractive destination for tourists.
The Hungarian real estate market is experiencing strong growth since the first quarter 2018, and is arguably becoming a strong presence within the European sector. As a result, the Hungarian real estate market has recently attracted strong investment, evidenced by the high number of real estate transactions. According to preliminary data from the Hungarian Central Statistical Office (KSH)1, the number of real estate transactions increased by 9.4% in the first quarter of 2018 in comparison to the first quarter of 2017, with about 22,000 contracts concluded during this period.
Moreover, property prices are continuing to rise in Hungary, according to the same report. The significant increase began in 2017, with new and second-hand home prices rising by 6.0% and 5.9% respectively compared to 2016. The trend has continued in 2018, with prices rising by 4.0% and 3.6% in the first quarter for second-hand homes and new respectively.
Increasing home prices have led to a higher Housing Price Index (HPI) in Hungary, which according to Eurostat has seen an increase of 3.35% over the first quarter of 2018. Looking back over time, the HPI in Hungary increased substantially by 44% from Q4 2012 to Q4 20172.

Given the above factors, the Hungarian real estate market can be an attractive choice for real estate investors at the moment. The trends for further growth are encouraging as Budapest continues to develop. This gives investors an opportunity to invest in a relatively stable market that has not yet reached its full potential.
We currently have the Budapest Property Bundle available on our platform. By clicking the button "Learn more", you can discover more about this real estate opportunity. Please note, with investing your capital is at risk and you may not get back the full amount invested. *Past performance or projections are not a reliable indicator of future performance.
Sources