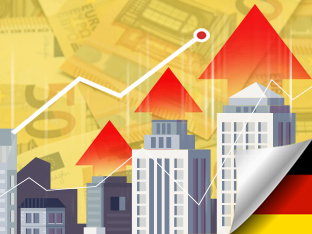 The residential property market in Germany is currently experiencing an increase in property values due to growing demand for residential properties. Prices are expected to continue rising over the coming years1. This growth is mostly expected in Berlin, Frankfurt, Munich, and Hamburg, which have the best overall RE (Real Estate) prospects in Germany in 2018. This especially goes for Berlin, which has arguably seen the biggest growth1. According to global macro models and analysts expectations from Trading Economics, the Housing Index in Germany will increase by 16% between the years of 2018 and 20212.

The real estate market in Germany has been experiencing excellent growth in 2017-2018 thanks to a number of factors. First of all, Germany offers low-interest rates which are controlled by the European Central Bank. This allows for a wider scope of investment opportunities in the country. Secondly, the market has recently gained significant liquidity. As a result, this has attracted many international investors. Finally, Germany is considered a safe investment haven because of its admirable economic standing. In the third quarter of 2017 alone, investment volumes into the real estate market in Germany reached ˆ€39.5 billion. This is an increase of around 20% compared with the same period in 20161.


There are also other reasons why German real estate is on the rise - especially in big cities such as Berlin. According to the IWM Institute, Germany s diversified and advanced market structure along with the current urbanization of large German cities offers tremendous opportunities for institutional real estate investors1.

According to Deutsche Bank Research, other factors why the residential property market in Germany has grown includes strong population and employment growth in the country. This led to an overall increase in the demand for new houses as more people move to Germany3 or relocate from other cities for better job opportunities. As a result, there are many active construction projects, especially in and around the large cities. House and rent prices are expected to rise significantly in 2018, with Deutsche Bank Research also reporting that price increases are likely to continue for several years, at least in most major cities in Germany. This is especially true for the rental market, where there is a current trend to rent an apartment or a house instead of purchasing one. The rental prices have been going up since 1995 – showing a steady increase for more than 20 years1. The analysis of the rental market was given by the Wohn-Preisspiegel (Residential Rent Index) and it was published by the German Real Estate Association (IVD).

In general, the German property market offers high yielding investments with good prospects for capital gains. Therefore, investing in the German real estate market may prove to be a worthwhile investment choice for all of the reasons described above.

However, as real estate prices in Germany are expensive, only a limited number of investors can afford to purchase properties in this country. This is where crowdfunding could be an ideal option for investors who still want to invest in this strong RE market, but have no opportunity to invest large sums of money.

The most interesting insight from Deutsche Bank Research is that even if an interest rate shock was to occur in the near future, property prices and rental values is are likely to continue rising in 2018 given the huge housing demand. Furthermore, a housing crisis or any other negative effects on economic growth should also have a relatively small impact on housing prices1.
Sources