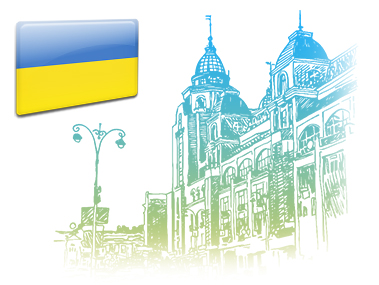 With world economics being stabilised, more real estate investors in search of cheap property and high rental yields are looking for emerging markets. One such emerging market is Ukraine with its capital, Kiev.
In previous years, the Kiev real estate market has struggled. According to the Global House Price Index, in 2016, Ukraine saw the second largest property price decreases in the world.1
History: Realty prices in Kiev started to plummet with the 2008 economic crisis spreading across Ukraine. In 2012 situation started to stabilise, but after the revolution in Kiev took place in 2013 with accomplished political turnover, Russian occupation of Crimea and consequent upheaval in Eastern Ukraine against new Ukrainian authorities, economic downturn directly influenced the property market in the capital. The devaluation of the national currency, leading to a significant fall in purchasing power of citizens and the unstable political situation in the East of Ukraine significantly contributed to the collapse of the housing market.
In 2015, the slump of prices in the capital was the biggest among all Ukrainian top cities – 20 % annually.2 A one-room apartment which could be purchased for $60,000 in 2013 could be bought for $48,000 in 2016.
In 2017, this slump slowed down to 2 % annually with new patterns emerging. Shouldn't this be a positive signal for real estate investors looking for emerging markets with tendencies to improve performance?

Highlighted here are the key factors expected to affect the property market in Kiev in 2018.
Modest Economic recovery. After first signs of economic recovery in 2016, 2017 became a year during which GDP increased with its second quarter numbers being higher by 2.4 % in comparison with 2016. In April 2017, Ukraine was given US $ 1 billion credit by the IMF to push forward reforms and economic reconstruction. Moody's Investors Service predicts GDP growth for Ukraine in 2017-2018 by approx. 2.5 %, while improving the rate of the country from Caa3 (stable) to Caa2 (positive).3 In the first half of 2017, unemployment slightly grew from 9.9 to 10.1 %. At the same time the State Statistics Service of Ukraine reported that salaries in 2017 were up by 18.9 % compared with the last year, increasing the purchasing power of the population. The economic situation will continue to improve next year and NBU forecasts GDP growth by 3.5 % in 2018.4
First signs of financial stabilisation. Since 2013, the national currency - hryvnia - has deflated by more than 300 %, starting from 8 hryvnias to 1 dollar and reaching, at different times of turbulence, a threshold of 30 hryvnias to 1 dollar. One room apartments, mentioned above, in 2016 cost 1.2 million hrn. in comparison with 480 000 in 2013. However, from the beginning of 2017 up to August (when Ukrainian economics stabilised and exports of goods rose) the value of hryvnia unpredictably increased.5 While fluctuations still happen, the National Bank of Ukraine (NBU), with the help of interventions and buying hard currency, learned how to handle it. Meanwhile, the NBU strengthened the gold reserves, launched restructure reforms, closed ineffective banks diminishing chances of crashing building development projects due to risky credits.6
Arrival of investors. In 2017 Ukraine signed an association agreement with the EU, making it easier to access the country's market. Since the revolution in 2013, Ukraine has become closer to Europe and its government expressed desire to follow the principles of Western democracy. The IMF executives evaluated the activity of the Ukrainian authority, aimed to recover economic growth and slow down inflation, highly for the last 2 years,. At the same time, they have expressed concerns that the country is backsliding on some of its promises. The response of investors was immediate. Due to research, held by an Institutional Investor, and based on opinion of 214 fund managers, Ukraine is the first in the list of EMEA countries (Africa, Europe, Middle East) named as a perfect destination for potential investment.7 It's expected foreign direct investment is US $4.5 billion this year, more than $1.7 billion compared to 2016. Many investors are coming to Kiev, which is far away from the hot spots in Eastern Ukraine, seeing no signs of any deterioration. This factor isn't expected to make significant impacts on the real estate market in the capital.
Demographic factor: The spreading of the IT-sphere in Kiev caused the growth of the number of high technology employees with comparatively high salaries (their salaries are commonly tied to a dollar), making it achievable for them, at 30-35 years old, to buy apartments on the outskirts of the capital. This tendency will increase, providing that many international companies will continue to open offices in Kiev, where rental prices and salary rates are cheaper.
Another demographic factor is the increasing number of city dwellers. Its newcomers and internal migration still create strong demand for apartments to rent. This influx was especially felt from Eastern Ukraine (officially 140,000 migrants). Discrepancy in economic development between Kiev and the rest of Ukraine urges people to seek a higher quality of life in the capital. It means, that amidst the havoc in the country people prefer to buy property in Kiev to earn stable salary and enjoy better infrastructure.


As we see, economic development, purchasing power of the population, demographic changes, stability of currency and amount of foreign investment are key factors that will influence the realty market in Kiev. Ukraine is slowly recovering economically with Kiev becoming more attractive to Ukrainians from other regions, tourists and foreign investors looking for cheap but stable markets. As a result, the Ukrainian capital and its outskirts, after passing new legislation, see an unprecedented boom of building development projects with strong rivalry, comparatively cheap prices and a variety of offers with high rental yields. It's also forecasted that purchasing power of Kiev residents will grow slightly in 2018, while it stays unpredictable for the rest of Ukraine.
Kiev is home to qualified employees, working in international companies with high enough salaries to afford economy class apartments. This segment of realty will continue to flourish. Due to demographic structure, demand for premium class apartments among wealthy Ukrainians and foreigners will only increase with prices increasing slightly. A lot depends on its currency - hryvnia. While it has tendency to fluctuation, this year it proved to be stable, holding positions above NBU official forecasts. Of course, there are still chances of peaks and troughs, but the Ukrainian Bank has the capacity to keep the situation under control. The measures performed by the government in 2017 (improved property legislation, the improved economic situation and the arrival of investors) means that we shouldn't expect any deterioration on the Kiev property market in 2018. Meanwhile, experts predict increased demand and house price growth in economy and premium class sectors next year and stabilisation of the market in the long run.
Sources
http://lawyers.ua/ukraina-okazalas-na-vtorom-meste-rejtinga-global-house-price-index-iz-za-rezkogo-obvala-tsen-na-nedvizhimost.html
http://news.finance.ua/ru/news/-/405357/ukraina-v-liderah-po-padeniyu-tsen-na-kvartiry-kogda-mogut-podorozhat-kvadraty-i-chto-proishodit
The Ukrainian Week # 9 (115) September 2017>
http://www.institutionalinvestor.com/article/3747038/asset-management-hedge-funds-and-alternatives/ukraine-tops-emea-list-for-potential-investment.html#.WdIvFI-0PIU