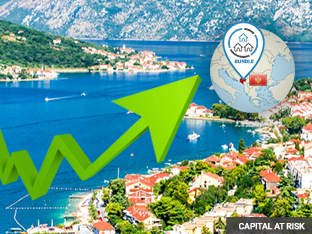 The Montenegrin property market is a worthwhile consideration for any real estate investor looking for ways to diversify their portfolio. Several indicators clearly illustrate why the real estate market in Montenegro is experiencing an upward trend.

Booming tourism industry
The tourism industry in Montenegro is growing rapidly thanks to a substantial increase in tourist arrivals over the last couple of years, especially on the coast.1 As reported by the Statistical Office of Montenegro, in 2017 alone, tourist arrivals increased by a whopping 18.1% compared with the previous year. They then grew by another 12.4% in Q1-Q3 of 2018.2
Local experts believe that such a boom in the tourism industry will have a beneficial effect on real estate prices. They argue that the current Montenegrin property market offers an outstanding investment opportunity. And the flourishing tourism industry isn't expected to slow any time soon courtesy of the National Tourism Master Plan 2007-2020, which is focused on the building and development of luxury hotels, golf courses and other high-end services to attract wealthy tourists.3
There are other perks for international real estate investors. The Montenegrin government has implemented a simple procedure for foreigners wishing to purchase property in the country. According to national law, foreigners who buy a house in Montenegro receive a residency permit regardless of the value of the asset.4

Growing economy
A 2013 report by the World Bank stated that Montenegro had tripled its per capita income in 10 years and was considered the wealthiest country in the western Balkans.5
GDP per capita has averaged 6,241.36 USD from 1997 to the present but is forecast to increase to 9,200.00 USD by 2020.6 In 2019 alone, Montenegro's economy is expected to grow by 2.8%.7

Positive real estate investment prospects
Contemporary Montenegro offers one of the highest rental yields in Europe. Several sources identify rental yields ranging from 4% to 8%.8 Importantly, the country has become a popular relocation choice for entrepreneurs wanting to launch start-ups, which has positively affected commercial real estate, especially in the country's capital of Podgorica.9


The above reveals why Montenegro can be a valuable addition to your real estate investment portfolio. Traditionally, when investing in real estate, you need to spend significant time on market research, the purchase of properties and the management of assets. However, with the property crowdfunding platform RealtyBundles, that hassle is taken care for you.
Our Montenegro Property Bundle offers ready-made and potentially profitable properties managed by local real estate agency Pronova, an agency with more than 30 years of experience in the real estate business. Together with our partner, we free you from the hassle of choosing and maintaining properties. Instead, you can complete the whole investment process online from anywhere in the world. Click on the button below to learn more our Montenegro Property Bundle investment opportunity:
Sources