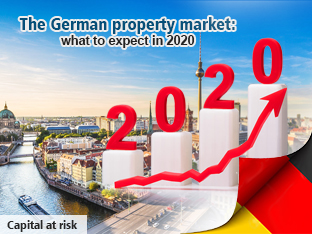 Germany's economy has been going strong for the past 10 years due to record low unemployment rates and developed public and private sectors. For several years, the country's GDP has been increasing by more than 2% annually and, despite a slow in the second half of 2018, ongoing investments in construction and equipment are forecast to bring output back to trend by the end of 2019 resulting in a 0.7% increase forecast for 2019 and a 1.7% increase for 2020.1 Will these positive trends impact the real estate market? What factors will reflect the market's development? What can investors expect from the German property market in 2020?

House Price Index and rent dynamics forecasts
The German House Price Index increased from about 142 to 164.783 index points from January 2018 to August 2019. This latest figure puts it at its highest level since 1991. The HPI is expected to maintain approximately 164 index points by Q2 2020 and about 169 index points by the end of 2020.2
Rents are going up as well. According to the PWC Real Estate Investor Survey published in March 2019, on average, rents in Germany's biggest cities are increasing by 2.2% per annum.3 Moreover, the average rent-free period for rental properties in the biggest cities in Germany had declined by more than a month in the preceding year.4
The combination of these three factors makes German real estate very attractive to investors. House prices and rents are likely to keep going up with low interest rates, immigration influx and ongoing labour market growth driving the real estate market. This nationwide cycle is forecast to continue until at least 2022 and likely beyond.5

Decreasing unemployment rate
A boom in the labour industry is a primary driver of today's housing demand along with low interest rates. According to the Bundesbank, Germany's employment rate has grown by almost 10% since 2009 with salaries going up by about 20%.6 Correspondingly, the unemployment rate has decrease and dropped to 3% in July 2019.7 The International Monetary Fund predicts that the unemployment rate in Germany will stay at about 3.1% in 2020-2023.8

Asset growth
Asset growth can also positively influence housing demand. Due to low interest rates, private household wealth has grown by about EUR 3,800 billion or by over 40% from 2009 to 2019, as reported by the German Federal Statistical Office.9
Higher incomes and greater wealth have prompted a growing trend in single-person households. That's why living space per person has been gradually going up. As house prices are likely to increase further, this trend is expected to reach a ceiling in future but while it continues, it can positively influence house prices.10


To summarise, 2020 is expected to bring a significant rise in property demand due to low unemployment and increased quality of life among Germans. Combined with growth in average annual rents, this can create good prospects for investment in the German property market.
If an investment in the German real estate market is something you would like to add to your portfolio, check out our Germany Property Bundle. It includes properties in Saxony and Bavaria located in peaceful locations about 70 km from Nuremberg. With our marketplace, you can invest in the German property market from the comfort of your home. Click the button below to learn how you can invest in this asset portfolio:
Sources