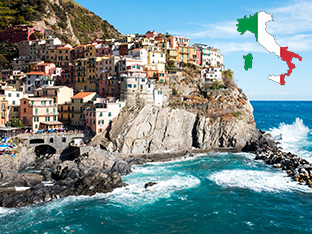 The Italian property market has been in decline for a long time. The House Price Index in the country decreased from 2010 to 20181 due to the nation's complicated economic situation, including issues of inflation and low employment rate growth.2 However, there are now, finally, some indications that the property market is set to grow.

The economy is recovering
According to PwC, Italy's economy is estimated to grow by approximately 0.5% annually for the next 10 years. The tourism industry has contributed a lot to this economic recovery. Italy has the third highest number of overnight stays in Europe per annum, positively affecting the country's economic indicators.3
The upward trend can also be seen in terms of Italy's GDP, which grew by 0.2% in the first quarter of 2019 from the previous quarter, as reported by ISTAT.4 This indicator decelerated the negative trend seen in the second half of 2018 and showed that the Italian economy can improve in the coming months.

New demand for properties
There is a generally good outlook for the Italian housing industry in 2019. The demand for new buildings in Italy is rising with the construction of residential properties also going up.5 According to Idealista, in Q1-Q3 of 2018, residential property sales grew by 2.3% compared with the same period the previous year.6 Also, the average period it took to sell a used house was 4.9 months in 2018 compared with 6.5 months in 2017.
The Idealista report also reveals a rise in new residential building in 2018.7 The supply in this area is still underestimated, which is why the forecast is positive for 2019. During Q3 of 2018, the number of residential dwellings grew by 8.8% and the number of non-residential assets grew by 6.7% compared with the same period in the previous year, as stated by ISTAT.8


New opportunities

The information above paints the picture that the real estate industry in Italy can have a lot of potential. If you believe in the revival of the real estate market in Italy, we invite you to discover the Calabria Property Bundle on our platform. It offers properties in Calabria, a popular tourist resort surrounded by the sea and mountains. Using our marketplace, you can invest in property in the Italian real estate market from just 50 euros.
Sources