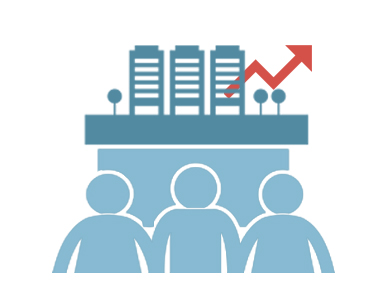 According to Crowdsourcing.org, real estate crowdfunding (RECF) was set to reach $3.5 billion in 2016. As many economists suggest, it's currently surpassing some traditional forms of investing. Here are 7 reasons, that provoked this impressive breakthrough:
Reasonable pricing. Many real estate investors would love to participate in multiple projects, but limited finances often prevent them from doing it. Now it's getting easier - many property investment platforms now offer lower initial sums of investments down to (a ridiculously low) €10.
Fast and handy services. It's natural that crowdsourcing, being quite new, was initially absorbed with IT concepts (like Bitcoin) and made it possible to participate in property investment projects from any place. Jilliene Helman, contributor to Forbes, puts it, "Real estate crowdfunding platforms allow those saving for retirement to invest in realty right from the golf course, with just a few clicks on their phone or tablet". Some investors manage to finance dozens of projects in a week via realty platforms.
Safe and legal business. Before now, participation in crowdinvesting was risky and the law allowed only sophisticated investors to get into funding real estate projects. The lower investment threshold was too high, so the inner circle was narrowed to institutional and experienced individual players with high-net income.
The situation has changed since the JOBS Act was signed in 2012 in the US with the aim of giving a boost to small business initiatives. Titles II and III of this Act include sections that provide the base for real estate crowdfunding regulations. Since that time, the industry has been rapidly growing. In the UK, crowdsourcing and other financial services firms' activities are regulated by Financial Conduct Authority (FCA), which provides strong regulatory frameworks for their functioning.
Brand ownership. The crowdsourcing concept aims to provide new brands and networking to each and every person. It was a decade ago when famous brand strategist Martin Lindstrom predicted that the main success of your brand is to transfer its ownership to the consumer. Very few believed it was possible to achieve this on the realty market, where a single building in the past was indivisible and couldn't be owned by a "crowd" of people. Crowdinvesting made this a possibility it the real estate market.
Asset diversification. There's an old rule - the more assets you own, the better is liquid asset ratio. Peer to peer lending became a great opportunity to diversify assets for generation X, who look for retirement funding as well as Millennials who dream about high yields with low investments. Property platforms enable participation in funding different types of properties, such as shopping malls, residential apartments, or hotels.
There are brilliant opportunities to acquire a share in groups of properties with a single mouse click, offered by RealtyBundles online platform. In this case you are getting secured from overnight downfall.
Experts support. It's easy for the first time property investor to feel lost. This is not the case with crowdinvesting. Each RECF platform is not just mediator and third party. It's future strongly depends on your prosperity and the success of investors. The platform provides the assistance of experts, ready to share experience, tips and lawyers, offering the best asset protection strategies.
Social equalisation. Early adopters of RECF aimed to create an online place where people who need money could meet people who have it. This innovation kills two birds with one stone. Building developers, who had no chance of attracting investments from financial tycoons, could be funded. On the other hand, investors new to the market got the opportunities from a new way of earning. Can you imagine obtaining a share in multiple properties, making just one small investment? What was impossible, now is a real opportunity with such property platforms as RealtyBundles.
So, what is it all about? It's hard to conclude better than Brian Dally, from Groundfloor, who explained that, "Because real estate crowdfunding is still new, still growing, it's gonna grow no matter what happens".