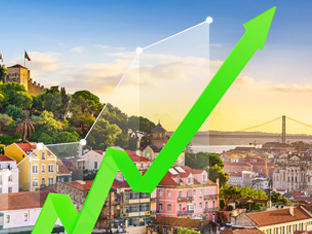 Lisbon has been named the most promising property market in Europe for 2019 by Emerging Trends in Real Estate. Factors such as high quality of life and strong leadership have contributed to Lisbon's victory.1 For those of our readers interested in investing in Lisbon, and the Portuguese real estate market in general, we are happy to explain why this sunny country stands out in the current European economic environment.

The Portuguese economy is growing
The economy in Portugal is improving with each year. It grew by 2.2% in 2018 alone, as cited by the European Commission, with previous years illustrating a strong general upward trend: 2.8% in 2017, 1.6% in 2016, 1.8% in 2015 and 0.9% in 2014. Evidently, growth rates for Portugal's economy have been strengthening over the past several years.2
So, what can we expect next? The Bank of Portugal predicts continuous and steady economic development of about 1.7% in 2019 and 2020. Moreover, an increase in the import of capital goods indicates that investment growth will go up.3

Portugal's real estate market has a lot going for it
There are lots of rapidly developing markets in Europe, but Portugal does appear to be steaming ahead. The property market in Portugal is forecast to stay active in the coming years due to new employment opportunities, higher earnings and the increased property demand from abroad.4
As reported by Trading Economics, Portuguese HPI grew from 132.34 points in Q4 2018 to 137.14 points in Q1 2019 and is expected to increase further to 145.00 points in 12 months.5 RealtyBundles estimates an HPI increase of 19% in 2019-2021.6
Property prices in Lisbon are continuing to rise according to Forbes, which states that in the last year alone property prices in Portugal's capital grew by an impressive 20%.7 This presents great dynamics over such a short period.
At present, Lisbon has one of the highest rental yields in Europe with rents still being among the cheapest in comparison with other European cities.8 Average gross rental yields in the Lisbon district range from 4.5% to 6.7% depending on the asset location.9 Naturally, rental properties near the city centre are more expensive.

Support from the government
The Portuguese government has taken steps to attract international investors from various countries. Officials in Portugal are currently implementing a range of investment initiatives, including a scheme that will see 485 million euros invested in the expansion of the subway systems of Lisbon and Porto by 2020.10 They also plan to invest 310.2 million euros in construction within urban areas by 2021.11 These initiatives can positively influence the real estate market and contribute to its further development.
As for its other plans, the government is set to turn Portugal into a digital economy by 2020 by expanding internet accessibility and funding telecommunication infrastructure projects. There are also plans to construct a new airport in Montijo, Lisbon, involving an investment of approximately 4.1 billion euros.12

International corporates are looking to expand
As stated by real estate experts, Portugal is now a sought-after place in which to open a business, locate service centres and launch outsourcing projects. The country has relatively affordable labour and real estate and at the same time offers a high quality of life. However, there is a low supply of rental properties, which is prompting would-be tenants to compete with each other to find accommodation. All this has contributed to the decision of businesspeople to expand their companies in Portugal and launch their products in the country.13

Diversification of capital
The Portuguese property market is currently becoming increasingly diversified. Previously, it was dominated by Portuguese and German funds that were searching for the same type of product. Today, the Portuguese real estate market includes a variety of capital that differs in origin, risk profile and asset class.14


Investment in Portugal's real estate market may be a good idea for those wishing to diversify their portfolio. However, investing in property abroad can be a complicated process, especially if you don't have time to manage the properties you've purchased. So, how can you benefit from the opportunities offered by Portuguese real estate without the hassle? This is where RealtyBundles comes into the picture.
We are a property crowdfunding platform that provides real estate investment opportunities in different countries, including Portugal. Our property portfolios are fully managed by onsite real estate agencies and supervised by our service. This way, investors receive a ready-made investment product.
Our Portugal Property Bundle offers assets in Lisbon, Queluz and Amadora. The properties are managed by investment company YGI, which specialises in long-term asset management. By cooperating with this partner, we aim to create a hassle-free investment experience for you.
You can invest in this bundle online from the comfort of your home. Click on the button below to learn more about our Portugal Property Bundle investment opportunity.
Sources