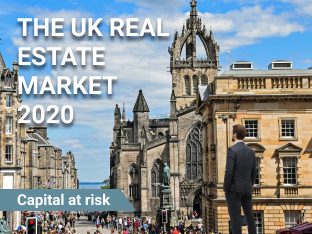 With the lack of certainty that defined 2019 behind us, it's time to think about the future of the UK real estate market. Despite the many eventualities that may arise in the UK real estate market after Brexit, the country still boasts one of the most active asset centres in Europe. We believe that there remain many opportunities in the UK for investors. Why? Read this article to find out.

PwC survey respondents feel optimistic about the UK housing market
Even in the case of a hard Brexit, the vast amount of capital worldwide means that the UK will be promptly supported by opportunity funds and various professionals eager to cash in on a bargain, as reported in the 2020 PwC survey.1
The PwC survey shows that even though the UK housing market has been out of reach to many for a long time, some private equity professionals are now starting to hire teams to embark on their first UK property investments. If you don't have a UK portfolio, now could be the time to start one.2
The same research reveals that debt managers are very active in the UK today, underwriting elements that will still function and survive if the UK has to leave the G20. As prices of core assets in the UK property market are still high, buyers are now searching for development opportunities to benefit from higher returns.3
PwC survey respondents consider that there is more likely to be an increase in equity than debt for development which highlights two main trends, one cyclical and one secular: the desire of institutional investors to adopt a build-to-core strategy and the pullback of traditional lenders from development finance, which regulation is making less profitable for them.4
Finally, the PwC analysis discloses that pension fund managers are prepared to embrace risk. They support development but as part of build-to-core portfolios. They are searching for resilient properties and real estate managers that can find good locations.5

London and Edinburgh both have high investment prospects
London ranks fourth in the list of European cities with real estate markets to watch, according to the 2020 PwC research. The respondents of this survey believe that there are large amounts of capital available in case of any downturns in the UK economy, although the UK's smaller cities have lower expectations regarding access to this capital.6
The survey respondents, who were interviewed in mid-2019, agree that uncertainty in the country is influencing UK capital but not the dynamics of the UK housing market.
Some feel more certain investing long-term in London's undersupplied cost-effective housing sector. They think there is still a housing shortage in the country despite Brexit, which can be explained by the urbanization trend. People keep moving to London, so the demand for affordable housing remains and investors are happy to invest in this strategy.
The same PwC survey ranks Edinburgh number 25 in its list of cities with good investment prospects. 7 UK investors state that they are continuing to invest large amounts of money in hotels and offices in Edinburgh. This is in part due to the city's position as a key destination for tourists but is also due to changes in the local economy, which has diversified its base of occupiers beyond financial services in recent years. While Edinburgh remains the UK's second-biggest financial centre, it is also home to businesses in a large range of other sectors, making it a promising destination for people pursuing various occupations. 8

2019 showed an even increase in UK house prices
UK house prices increased by 1.3% in the year preceding September 2019, although prices did drop by 0.2% from August to September 2019, with the same decrease of 0.2% seen during this period a year ago (from August to September 2018).9
As reported by Nationwide Building Society, house prices went up by 0.5% in November 2019 which was the highest monthly rise since July 2018 and was up from 0.2% in October. The annual growth rate was also positive, rising from 0.4% to 0.8%, the highest increase since April.10

Political certainty returns
Due to the election of a clear majority government and confirmed subsequent January Brexit, there is now more political certainty in the UK than previously. This gives investors more confidence to operate in the UK property market.11
Nervousness around UK politics stopped people from buying and selling assets. After the general election results, positivity should return to the real estate sector over 2020 and the first half of 2021.12 The certainty offered by a majority government should result in a more active spring moving season, with some release of several years of closed demand.13


Forecasts suggest that 2020 will be a better year for the UK housing industry than 2019. Greater political certainty, a price rise in the market and the confidence of investors and real estate experts can make the UK real estate market attractive to investors in 2020.
However, if you are interested in dipping your toes in the UK property market, we invite you to consider our UK Property Bundle proposal. With this proposal, you can invest in a diversified property portfolio containing assets located in Scotland and own a share in a holding company. RealtyBundles manages this holding company and deals with the day-to-day hassle involved in property ownership while you are free to check the performance of your investment and its benefits without leaving your home!
Check out the investment process and anticipated benefits here:
Sources