Now that the world is shaken with coronavirus, every investor is worried about which investment strategy to choose from. In this article, we will consider some investment options. Please do not forget that any type of investment involves risks. Let's dive in.

Stocks, Forex, Cryptocurrency
Of course, it's very difficult to physically buy one share of such popular companies as Google, or the full unit of such popular cryptocurrencies as Bitcoin. The current price for 1 Google stock price is 1 119 euros as of 21.04.20)1 and the current price for 1 Bitcoin is 6289 euros as of 21.04.202. Still, there are some ways of investing 1000 euros and lower in these types of assets. Google can be bought by using fractional trading and Bitcoin can be bought in Satoshi units.
An alternative is investing in less popular and cheaper stocks and/or cryptocurrencies but these are likely to require a lot more time spent researching.
People can also invest 1000 euros in Forex, it's just important not to miss sudden currency fluctuations, which can be common.
Stocks, Forex, and cryptocurrency markets are all volatile at the moment. While most investors depend on the volatility of Forex to profit more from fast price movements in the market, others choose to make fewer volatile and risky investments, such as in Blue Chip stocks3. Still, stocks in general are extremely volatile at the moment as well4.
As for the current situation in cryptocurrencies, there is also undeniable economic damage with Ethereum, Ripple (XRP), and Litecoin suffering from price swings5. The cryptocurrency market is one of the riskiest ones6.
Also, each investment in stocks, cryptocurrency, or Forex requires a significant amount of time invested in research. And given how fast things are changing now, the research process could transform into an endless loop.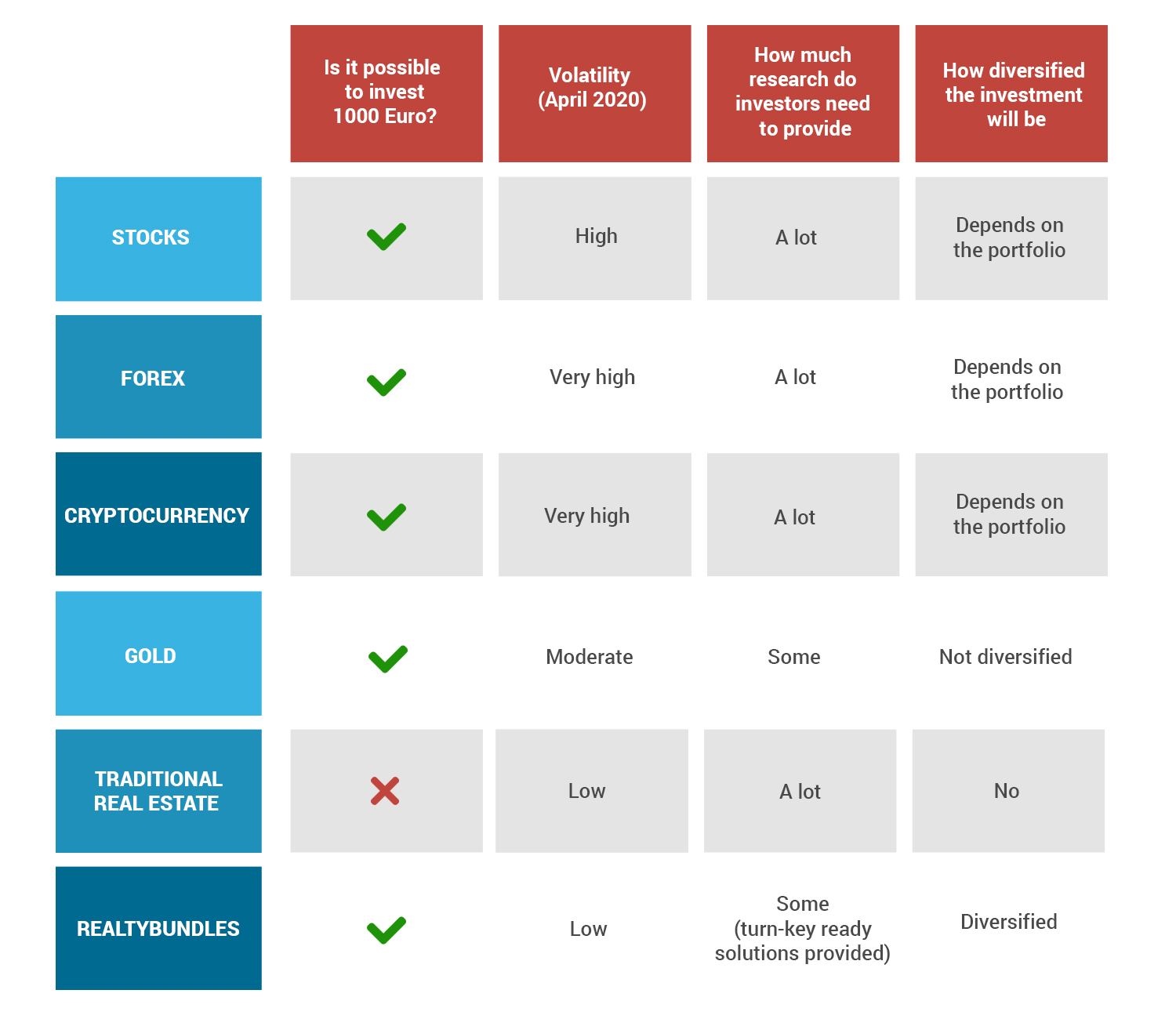 Gold
Gold can be bought in bullions, or it can be traded, so investors with all budgets have options.
The current gold price is 1578 euros per ounce as of 21.04.207 which follows a 12% drop in price per ounce in mid-March. Liquidity in the gold market is deeply compromised and continuing volatility is to be expected8.
But even though the price of gold is suffering now, from a long-term perspective, it can be considered a better investment in times of crisis. Gold is known for retaining its value in difficult periods9.
Investors also do not need to spend a lot of time on research because the rules of investing in gold are pretty straightforward. But it's important to find the right time and point to enter.

Real Estate
In a traditional real estate investment model, investors won't be able to buy even a square meter of property in Europe for 1000 euros, except in Moldova where a square meter costs 965 euros. For example, the average price of residential property per square meter in the most important cities (either financial or administrative centers) of the UK costs 21,179 euros, and France 12 796 euros. The prices in Eastern Europe are cheaper, but still higher than 1000 euros; property in Hungary costs 2 515 euros per square meter, North Macedonia 1 134 euros and Montenegro 1400 euros10.
The volatility is much lower in real estate than in stocks or cryptocurrency so it is probably a better investment choice in times of crisis11. Yes, recession can bring serious financial losses such as a fall in home prices. But it also gives investors the opportunity to buy a property at a lower price and sell it later with a profit after the market is better again. While waiting for that, investors can generate reliable passive income by renting or renovating the property12.
But still, many investors avoid real estate because it requires too much hassle - despite a more reliable passive income. They may need to do a lot of research as well as manage the property and perform day to day supervision.


RealtyBundles
Among the options mentioned above, real estate may be considered the most stable. Still, how can investors enter the property market with a small amount of money and avoid the hassle of property management?
Discover RealtyBundles, a real estate crowdfunding platform where initial investments start from 50 euros, with all proceeding investments from 1000 euros. With this model, it is even more possible to invest in real estate and investors have the chance to invest from the comfort of their own home.

With Realtybundles, investors can access real estate offers in various countries. They receive a ready-made solution where all the management work is performed by the third party. Our bundles are managed by experienced local real estate agencies who aim to always find below-the-market price deals.
RealtyBundles' most important advantage in the current situation is diversification. By investing 1000 euros, even in one bundle, RealtyBundles' clients' investments and risk are distributed between a number of assets inside the bundle. The assets present no single point of failure - if something happens with one asset, investors have a level of protection because there are other assets in the bundle. RealtyBundles tries to add different types of assets to the bundles to make the offer even more diversified.
It is possible to get an even greater level of diversification by investing in several bundles at once which distributes risk between assets in different regions.
RealtyBundles can offer many potential advantages in times of recession. You can find them out and discover how to invest in real estate crowdfunding opportunities from the link below.
Sources