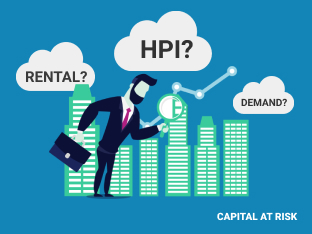 If you're searching for ways to diversify your investment portfolio, real estate can be an attractive option. It may be considered stable, traditional and always developing, but one of the biggest problems that both new and experienced investors can struggle with is where to invest. What real estate market can offer the most benefits and is most suitable for you?
In this article, we will look at the main factors you can examine to help you reach your investment goals.

Rental income
If you are focusing on rental income when making a property investment, you can consider two factors: demand and rental rate.
Demand can be seasonal, year-round, highly-specialised and wide. The wide segment is not always the most obvious choice as seasonal profits at resorts can be much higher than the year-round rental income generated in a neighbouring town. Moreover, a highly-specialized segment such as student housing or corporate real estate may be the most sought after in the region and bring higher demand than the wide segment.
RealtyBundles offers investors the opportunity to invest in student housing in Budapest where residential property is among the cheapest in Europe.1 Alternatively, you can invest in holiday apartments in France, a country considered to have one of the most well-regulated property markets worldwide.2 If you are interested in investing in popular tourist areas, you can check out our portfolio featuring apartments in a sea resort in Italy. The demand for new buildings in Italy is rising with the construction of residential properties also going up.3
Are you unsure about the demand in a specific region? You can also consider the rental rate. The higher the rental rate, the higher the potential profit. This is a factor that you can easily evaluate. As reported by the Global Property Guide, Moldova, Ukraine, Montenegro, Ireland, Romania, Poland and Portugal have the highest rental yields in Europe.4 Why not examine these regions as candidates for your next real estate investment?
With RealtyBundles, you can invest in two regions with high rental rates, namely, Montenegro and Portugal. As for additional factors, the tourism industry in Montenegro is growing quickly due to a big increase in tourist arrivals over the last couple of years, especially on the coast. This has the potential to positively affect real estate prices.5 In Portugal, the real estate market is forecast to remain active in the coming years due to new employment opportunities, higher earnings and an increased demand for Portuguese property from abroad.6

House Price Index (HPI)
If you're interested in making a profit from rising house prices, you can look at the House Price Index in a region. Factors such as price dynamics and the property's potential to increase in price following renovation should also be taken into consideration.
Some property markets show better performance than others. To illustrate, the German HPI has risen steadily over the last 10 years. In this time, the HPI has grown by more than 40%.7 This may be explained by the fact that Germany's economy has been going strong for the past decade thanks to record-low unemployment rates and developed public and private sectors.8 RealtyBundles gives investors the opportunity to benefit from these factors by investing in assets in Bavaria and Saxony.
The Portuguese residential HPI has also reached its highest point in the last 10 years. It grew by about 30% from January 2017 to July 2019.9 So, this market offers both a strong rental rate and HPI.


It is important to consider a variety of factors when choosing an asset or a group of assets to invest in. To achieve one of the core objectives of every investment strategy, diversification, you should evaluate every property investment from various angles. However, proper investment analysis takes time. So what can you do? Don't worry, RealtyBundles' real estate crowdfunding platform has already done the job for you. In the company's portfolio, you will find real estate investment opportunities in both stable and growing markets, markets with high rental yields and markets with a consistently increasing HPI and in areas with stable and seasonal demand. Learn more about available offers:
Sources