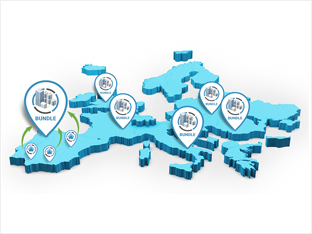 When it comes to earning some additional income, many people are eager to invest but are searching for alternatives to traditional investments. Real estate is not always the obvious choice as there is a general belief that it is time-consuming and expensive. Traditional property investment options do present certain difficulties for investors as investors must, among others, understand the market, deal with professional agencies and monitor the purchased asset. Is there any easier way to invest in real estate? Property crowdfunding could be the option you've been searching for.
At RealtyBundles, we use the crowdfunding solution to make investments more accessible. We have created a model that allows investors to benefit from investing in just one portfolio, a Property Bundle, that includes a variety of assets.
What are Property Bundles?
A Property Bundle is a set of carefully selected and curated group of real estate assets. This set forms a single investment package. So, when you select one Property Bundle, you are investing in several different properties simultaneously. This creates the opportunity for investors to benefit from various assets through a single investment. As a result, they can build a truly diversified investment portfolio. Property Bundles offer a range of benefits for investors, including rental income, capital appreciation, renovation and flipping gains, and more. All properties included in the Property Bundle are held by an SPV, a special purpose vehicle, owned by investors.
Who manages the Property Bundles and how do they appear on the RealtyBundles platform?
Our Property Bundles are managed by local real estate agencies. We have partners in France, Germany, Italy, the UK, and other European countries who manage the assets held in their country. Some of these agencies find below-market-price deals. We then select the best offers and group them together in one portfolio. Our role is to fully supervise our partners and ensure they bring investors optimal returns. Investors receive the opportunity to access a marketplace where they can choose assets from local real estate agencies across Europe.
The versatility of Property Bundles
Our Property Bundles can feature assets of entirely different characteristics and may present properties in specific or diverse locations. For example, our Property Bundles include properties in the centre of Budapest, holiday homes in France, coastal assets in Italy, and rental properties in Scotland. A Property Bundle can include commercial or residential properties, long or short-term rentals, historical or new buildings, and much more.
Security
We at RealtyBundles are passionate about offering investors as much security as possible. We offer diverse property portfolios that present no single point of asset failure. What does this mean? It means that if one asset in a Property Bundle does not return the expected results, the remaining properties should compensate for this shortfall. Consequently, the risk of the whole Property Bundle failing is extremely small.

With Property Bundles, investors get a ready-made package, an 'all-inclusive' offering for the investment world. Investors can enjoy a hassle-free investment experience where all the work of buying, renovating, searching for tenants and flipping a property is done for them.
If you would like to discover more about our investment model, click here. As with all investments your capital is at risk and returns are not guaranteed. Please read our 'Risk Warnings' section before investing.