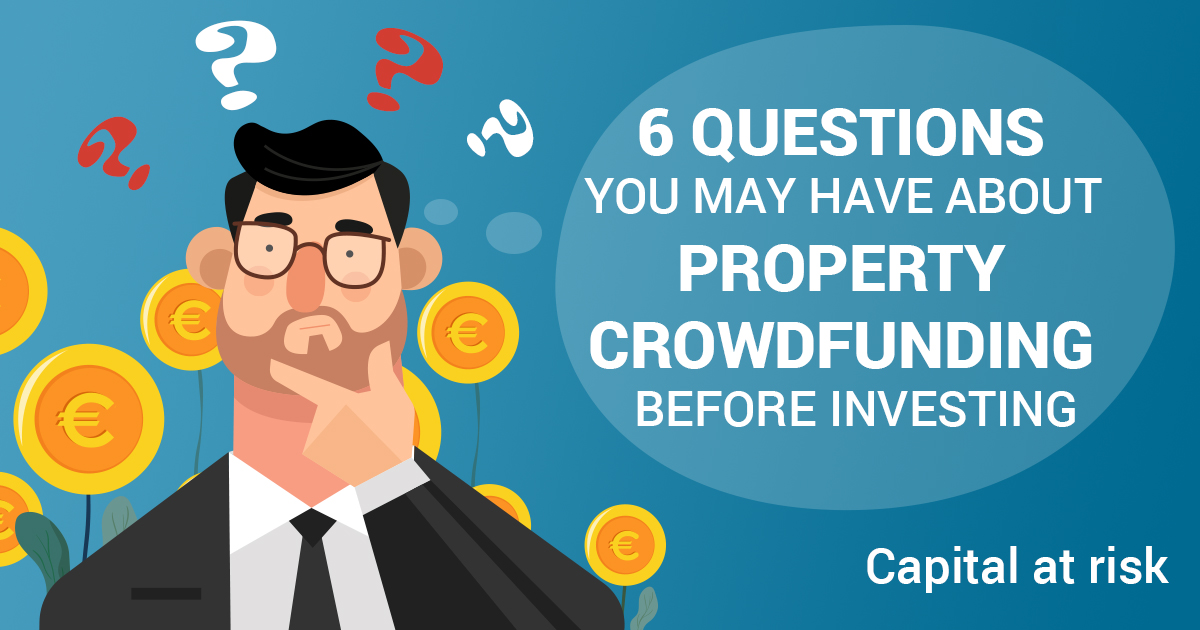 If you are a new-comer to real estate investment and want to try out property crowdfunding, you probably have a few questions that you would like answered before you dive in. In this article, we gather six key questions you may want to ask about how to invest in real estate through property crowdfunding.
Content
1. What is property crowdfunding?
2. What are the benefits of property crowdfunding?
4. How do you get started in property crowdfunding?
5. Why is the Special Purpose Vehicle (SPV) necessary in real estate crowdfunding?
6. What are the disadvantages of property crowdfunding?
Property crowdfunding is an innovative investment model in which several individuals invest in the same property and become joint shareholders. By pooling funds together, investors can purchase an asset and become joint shareowners of the property.

RealtyBundles is a property crowdfunding marketplace that goes a step further and supervises asset portfolios in various countries. By using our marketplace, investors can handpick several asset portfolios in different geographical locations and invest from the comfort of their homes.
Diversification: Investors can diversify their portfolio by splitting their investment across multiple projects. This has the potential to lower the risk.
Easy entry: Investors can allocate small amounts of capital to different projects, making it easier for them to start investing right away.
Hassle-free investing experience: Daily tasks involved in managing real estate are taken care of by the crowdfunding platform. This way, investors can earn returns without having to buy, renovate, flip or maintain homes themselves.
Expert knowledge and experience: Investors can benefit from the experience of specialist third parties that understand the market and can find attractive deals.
RealtyBundles offers all of these benefits as well as ensuring that no investment has a single point of asset failure. In a diversified portfolio, the underperformance of any single asset is generally compensated for by the remaining assets in the portfolio.
Property crowdfunding investors can receive the same gains as traditional real estate investors. The purchased property is usually rented out and every investor receives their share of the rent. Moreover, changes in house price can increase the value of an investor's shares, resulting in capital growth.
With RealtyBundles, investors can enjoy returns generated by capital gains and net rental yields. Capital gains include House Price Index (HPI) growth, renovation and flipping gains whereas net rental yields refer to the income derived from renting the asset.
Usually, the investor just needs to register on a crowdfunding platform, take the test on investing experience, pass the obligatory Know Your Client (KYC) procedure and invest the amount they want in the project that interests them.
A test on investor`s experience has to be passed to ensure individuals have suitable knowledge and understanding of the product to make an investment.
The KYC procedure is the obligatory process of verifying the identity of clients that must be undertaken by financial institutions and organisations such as banks, insurance and investment companies. This procedure can help prevent financial crime as it serves as a tool for assessing and monitoring potential threats to the company.
Investing with RealtyBundles follows the same steps as those mentioned above:
Registration;
Filling in advanced personal details;
Passing short test on investor`s experience;
Completion of the KYC procedure;
Selecting Property Bundle;
Making the investment.
It is not possible for people in different jurisdictions to invest in one real estate asset simultaneously because legislation varies across countries. This is where a Special Purpose Vehicle (SPV) comes into play. An SPV is a subsidiary created by a parent company to isolate financial risk.1
To let several people own an asset, RealtyBundles forms an SPV every time it purchases a property so each of our investors becomes a shareholder in the SPV when they invest. There may be hundreds of shareholders in an SPV.
Even though real estate investment can be viewed as a historically reliable investment, it is not completely risk-free. The income is not guaranteed as property prices may fall and there may be periods when the property is not rented. When you want to sell your shares, there must be a buyer and you may not be able to find a willing buyer at your desired price. Still, RealtyBundles' financial team aims to make our forecasts and predictions as informative as possible.

We hope that this article has helped you to better understand the property crowdfunding model! Do you want to discover more about RealtyBundles and our current offers? Click on the button below!
Sources